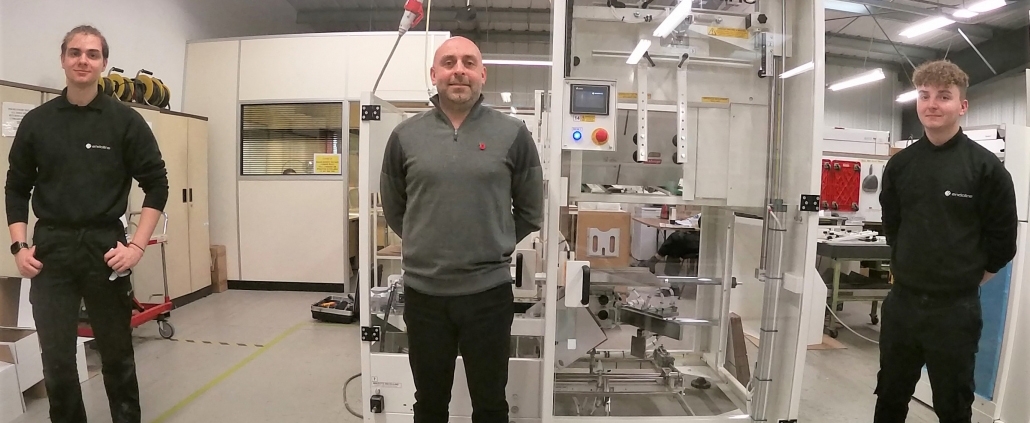 Endoline Automation creates two new apprenticeship positions
Endoline Automation is forging ahead with apprenticeship plans, announcing the appointment of two new apprentices.
Despite the recruitment of UK apprentices across the UK declining by 50% as a result of the pandemic, the end-of-line automation specialist recognises the need to harness a new generation of talent.
Both apprentices will be supplementing their college education with hands on experience working within Endoline Automation's Bedfordshire based factory. They will play a key role in the build of the high spec, end-of-line automated systems which are sold to manufacturers across the globe.
Currently studying electrical installation at North Herts College, 17-year-old Ethan Cannon-Tonks, will gain vital work experience with Endoline two days a week before embarking upon an Electro/Mechanical Engineering apprenticeship next year at Bedford College.
The second apprentice, Lucas Hammond, 21, has just started a Mechanical Engineering Apprenticeship at Bedford College, while spending four days a week on-site with Endoline Automation.
Both Ethan and Lucas will be fully qualified as an Electro/Mechanical Engineer and a Mechanical Engineer respectively, within three to four years.
"I was keen to work within construction and, when the offer of an apprenticeship with Endoline came about, I jumped at the chance." Comments Ethan. "I am learning so much during my time in the factory, and I am amazed at the attention to detail which goes into building the systems. It is certainly challenging, but very enjoyable and I am looking forward to a long career within the sector."
"Sitting at a desk all day wasn't for me," explains Lucas. "I wanted a hands-on, practical job which I am certainly getting at Endoline. We have been put straight in at the deep end which, considering the high level of engineering involved, could be quite daunting, but I am thoroughly enjoying it. The build is complex and there are so many factors involved including a high level of health and safety – I am learning all the time.
Seeing how these systems make such a difference for globally renowned food manufacturers is fantastic and I can certainly see myself having a career in electro mechanics."
End-of-line case erectors, packers and sealers are becoming increasingly intelligent through the integration of greater digital power and computerised technology. Endoline, which has been in operation for almost 40 years, sets a benchmark within the industry for designing and building standard and customised systems which directly meets evolving demands from manufacturers in the food, beverage, FMCG and pharma industries.
Consequently, the company recognises the need to create a continual pipeline of new engineering talent.
"We have been wanting to take on new apprentices for some time now to inject some youth into our experienced production team." Comments Richard Yates, Operations Director for Endoline Automation. "We felt that now was the time to do it, especially as, more than ever, youngsters are struggling to find positions within manufacturing."
https://endoline-automation.com/wordpress/wp-content/uploads/2020/11/LucasRichardEthan_2-1030x773-2.jpg
773
1030
Endoline-LHall
https://endoline-automation.com/wordpress/wp-content/uploads/2019/08/Endoline_Robotics_Logo-1-300x76.png
Endoline-LHall
2020-11-16 10:42:59
2020-11-16 12:03:02
Endoline Automation creates two new apprenticeship positions