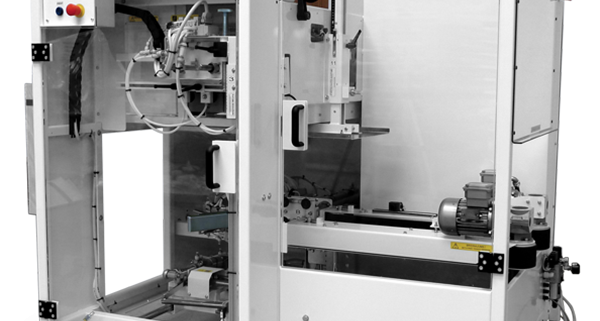 /
in Erector Glue, Tape Fully Automatic Pre-Set 150 200, 400 100, 110, 150, 175 300 150, 175 150, 400 10, 12, 14, 18, 20, 22
/
by CBJamie


227/228 – Fully Automatic Case Erector




The type 227 and type 228 case erectors are designed to handle smaller cases at a high speed. These machines use a unique dual opposing vacuum feature to erect the cases and seal on the base with self-adhesive tape (227) or hot melt glue (228). The 227/228 is designed with high quality in mind and is extremely simple to operate and maintain to offer an excellent return on investment and low cost of ownership.





The standard type 227 and type 228 case erecting machines can handle cases between 160-400mm length, 100-300mm width and 150-400mm height.





The type 227 and type 228 case erectors have the ability to run at speeds of up to 22 cases per minute.





Up to 50mm wide as standard.





Mild steel, powder coated white (RAL9010) or stainless steel.
Any of Endoline's machines can be modified or customise designed to suit your specification, if you can't find exactly what you want then contact Endoline and a Sales Engineer will discuss your requirements with you in full.
Dual opposing vacuum opening

This unique design feature ensures that each case is opened positively from both sides. It ensures the efficient and reliable opening of cases, and overcomes problems that can be associated with stiff board and glue migration from the manufacturer's joint.

With a surprisingly compact footprint these machines will fit in to areas with restricted floor space or areas not normally suited to the installation of large or bulky machinery.

High quality components housed in a robust chassis ensure minimal servicing and enable 24 hour operation. These systems are designed for the rigours of typical end-of-line packaging environments.

The Endoline case erector machine range is designed to give you the best possible value for your investment through maximum productivity with minimal stoppage time. All Endoline's machines are built for 24/7 operation and require little maintenance offering a long life expectancy resulting in a low cost of ownership.
https://endoline-automation.com/wordpress/wp-content/uploads/2017/04/endoline-automation-erector-227.png
650
600
CBJamie
https://endoline-automation.com/wordpress/wp-content/uploads/2019/08/Endoline_Robotics_Logo-1-300x76.png
CBJamie
2017-04-25 11:44:05
2019-11-13 14:48:28
227/228 Case Erectors
Endoline Machinery
Endoline specialise in the design, manufacture and installation of high quality end of line packaging machinery. For over 30 years Endoline's business has developed from designing and manufacturing small case taping machines to its position today as a leading UK manufacturer and worldwide supplier of end-of-line packaging machines and systems.
Scroll to top
This website uses cookies to improve your experience. We'll assume you're ok with this, but you can opt-out if you wish.Accept Read More