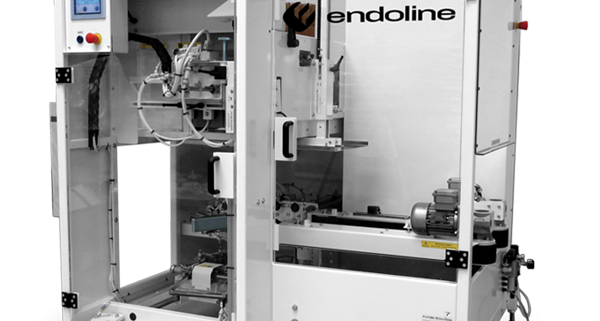 /
in Erector Glue, Tape Fully Automatic Pre-Set 150, 200 400 100, 120, 150, 200 100, 120, 150, 200, 300 150, 175 150, 400 10, 12, 14, 18, 20, 22, 25, 30
/
by CBJamie


247/248 – Fully Automatic High Speed Case Erector




The type 247 and type 248 case erectors are designed to handle smaller cases at a high speed using servo drives. These machines use its unique dual opposing vacuum feature to erect the cases and seal on the base with self-adhesive tape (247) or hot melt glue (248). The 247/248 is designed with high quality in mind and is extremely simple to operate and maintain to offer an excellent return on investment and low cost of ownership.





The standard type 247 and type 248 case erecting machines can handle cases between 160-400mm length, 100-300mm width and 150-400mm height.





 Up to 30 cases per minute.





Up to 50mm wide as standard.





Mild steel, powder coated white (RAL9010) or stainless steel.
Any of Endoline's machines can be modified or customise designed to suit your specification, if you can't find exactly what you want then contact Endoline and a Sales Engineer will discuss your requirements with you in full.
Dual opposing vacuum opening

This unique design feature ensures that each case is opened positively from both sides. It ensures the efficient and reliable opening of cases, and overcomes problems that can be associated with stiff board and glue migration from the manufacturer's joint.

The 247/248 range is fitted with servo drives to further increase the number of cases sealed per minute up to 30 cases per minute.

While allowing the machine to reach higher speeds – up to 30 cases per minute – the servo drive system permits greater flexibility and control by allowing almost instant acceleration and deceleration of cases through the erecting process. In turn this system can save energy because the servo drives only use power when needed.

High quality components housed in a robust chassis ensure minimal servicing and enable 24 hour operation. These systems are designed for the rigours of typical end-of-line packaging environments.
*The video shown is for illustrative purposes only and may differ according to order specification.
https://endoline-automation.com/wordpress/wp-content/uploads/2017/04/endoline-automation-erector-227-1.png
650
600
CBJamie
https://endoline-automation.com/wordpress/wp-content/uploads/2019/08/Endoline_Robotics_Logo-1-300x76.png
CBJamie
2017-04-25 14:01:42
2020-11-25 13:01:23
247/248 Case Erectors
Endoline Machinery
Endoline Automation specialise in the design, manufacture and installation of high quality end of line packaging machinery including Case Erectors, Case Packers & Case Sealers. For over 40 years Endoline's business has developed from designing and manufacturing small case taping machines to its position today as a leading UK manufacturer and worldwide supplier of end-of-line packaging machines and systems.
Scroll to top
This website uses cookies to improve your experience. We'll assume you're ok with this, but you can opt-out if you wish.Accept Read More
Privacy Overview
This website uses cookies to improve your experience while you navigate through the website. Out of these, the cookies that are categorized as necessary are stored on your browser as they are essential for the working of basic functionalities of the website. We also use third-party cookies that help us analyze and understand how you use this website. These cookies will be stored in your browser only with your consent. You also have the option to opt-out of these cookies. But opting out of some of these cookies may affect your browsing experience.
Necessary cookies are absolutely essential for the website to function properly. This category only includes cookies that ensures basic functionalities and security features of the website. These cookies do not store any personal information.
Any cookies that may not be particularly necessary for the website to function and is used specifically to collect user personal data via analytics, ads, other embedded contents are termed as non-necessary cookies. It is mandatory to procure user consent prior to running these cookies on your website.